My characters name is Rabidjackal and is a level 70 hunter
http://www.wowarmory.com/character-shee ... abidjackal
http://www.wowhead.com/?talent=chZceVoMVzMgog0Aox00b
This is my current spec i'm using to raid with, i've found after testing out several BM, MM, and SV spec's that this is one of the best top end dps spec. I am constantly keeping up with the Hunter communities thoughts on stats and spec's post 3.0 to make sure i'm always on top of my game, BM can put out very similar DPS in more linear tank and spank boss fights, but i've found the latter you find yourself in T6 it seems the more your constantly adapting and moving and your pet's dps tends to reflect it on top of some focus issues BM is having atm.
http://wowwebstats.com/jyxtwf5l3s3yw?s=170480-182780
That is a link to my latest full clear of Black Temple on wws, was my first night trying out my MM spec and found i performed pretty well with it and have decided to stick with it for the time being.
Mystics was were i got my start in BC raiding. They started me out in Kara, Gruul's and Mag's and helped teach me the earlier fights and a hunter in the guild by the name of Paetheus taught me all the tricks of the trade that i never knew before and am still thankful for his help because i never would have gotten this far without him. My most recent guild was Bad on Purpose that i was in for quite a long time i think 8 months to be exact were i became extremely dedicated and over those month's we progressed from Gruuls/Mags to 9/9 Black Temple right now, but 3/9 pre 3.0. They are a great group of people for the most part and am really happy i was able to help the guild progress as much as it did and guide a bunch of hunter's as i was Hunter class leader the majority of my time there. Recently a bunch of people seemed to have gotten out of hand and i was tired of dealing with unrelated and unnecessary problems that the Gm's should have been handling, but they tended to be way to nice and forgiving and really respect how much faith they have in people, it tended to be frustrating sometimes. I didn't really feel my opinion as an officer was taken into regard in most cases and this was also very troublesome. After quite some time of this I finally decided that as they say, all good things must come to an end and said my goodbye and decided it was time to look for a fresh start.
I've raided everything from Karazhan, Gruuls, Mag's, 6/6 SSC , 5/5 TK , 5/5 Hyjal, and 9/9 Black Temple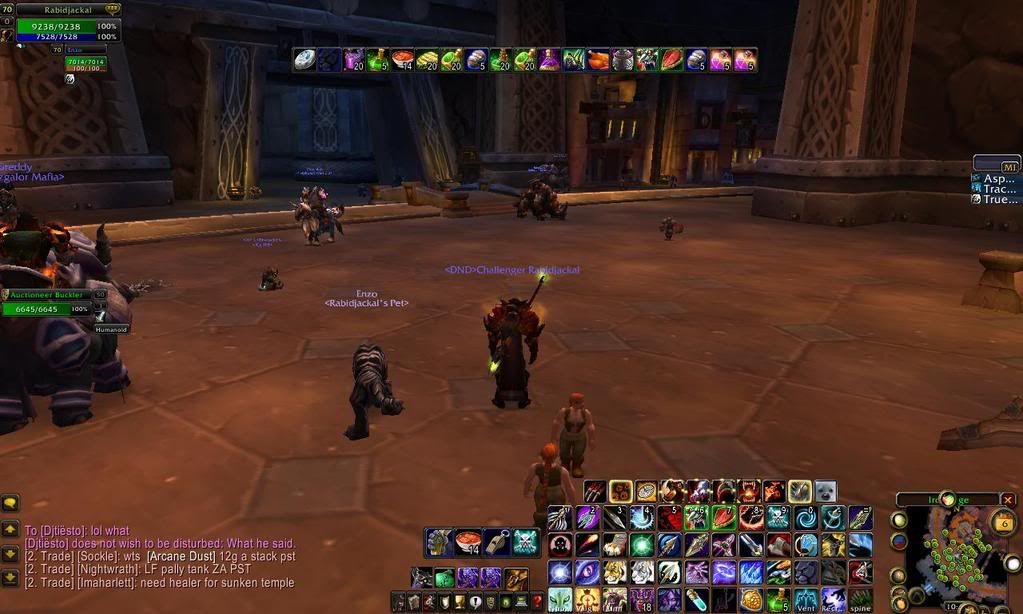 I'm 17, I live right outside of Chicago in the western suburbs, I'm a total metal head and love the genre of music, i attend way to many concerts and hurt myself in mosh pits and call it fun. Still in High school unfortunately. Most people when they first meet me judge me by my black band t-shirt i'm always wearing, but after talking to me realize that all metal hands aren't dumbass'es and can maintain a certain level of intelligence
. I play this game way to much and i love it.
My internet rarely falters, my comp has no problem running at a solid FPS in raids and i tend to coordinate pretty well in raids while not saying unnecessary crap.
I'm pretty good about keeping up on Guild forums, i check usually at least once a day if not more and add my thoughts were i think they are needed.
All these times workout perfect as long as they end promptly at 12. After 12 during the week may prove to be a hassle, but during the weekends (the Saturday raid) i can stay up to 5 in the morning if needed and will be glad to do it. I read in one of the other application posts most raids end before 12 except on Saturday, so i don't foresee this being a problem.
All times are server (CST)
Tuesday: 7pm to 12am
Thursday: 7pm to 12am
Saturday: 6 to 12am
Monday: 7 to 12am
My Xfire screen name is Rabidjackal, although i'm not on their a whole lot, if i'm on the computer i'm playing WoW so i can usually be accessed in game.
I'd really like to join Righteous Dawn because of the obvious talent and dedication you all have to the game and raiding. I've always held the guild in high regards and its members because i can really appreciate the amount of time and skill it must have taken to down bosses like Archiemonde and Kael and ROS and Council and Illidan pre 3.0 and would love to become a core part of such a guild.
This is a picture of a Jackal, a bit of history on my name i suppose is appropriate. If anyone is familiar with the game Metal Gear Solid and remember the first one. At the end when Liquid Snake and Solid snake are having an epic argument, Liquid Snake pose's the question Would you rather be a fox ? or a cornered jackal ? Sounds nerdy, i know but ever since that cut scene its been stuck in my head so naturally when i started playing wow Jackal popped in my head but was taken and thought Rabid sounded really cool along with it. So now you know what a jackal looks like.... and that's one eating some wildabeast i believe.... sorry for lacking on the clever....